With the crowdfunding-driven resurgence of retro-style computer RPGs (CRPGs) in recent years, it's a fantastic time to be a classic CRPG buff. The legends of this medium have captivated players over the decades and shaped the history of an entire game genre.
But the old greats are not just there to be admired and emulated — they're there to be surpassed. They, and their modern torchbearers, offer game developers much to chew on as we forge toward the next wave of gaming greatness.
Writing Can't Be an Afterthought
Ever tried editing a document that's gone through a few runs of Google Translate? No matter how skilled the editor might be, something's already been lost in translation. That's how it is with game writers. All too often they're called in only after the rest of the game has already been nailed down and told to write sense into it all.
In the spring of 2006, something different went down at Obsidian Entertainment. Work on Neverwinter Nights 2's first expansion had kicked off, and thanks to time and budget constraints, it was to be a simple hack-and-slash adventure. And that's what fans would have gotten if writer George Ziets hadn't pushed for bigger and better.
It took some trust and convincing, as Ziets tells it, but Obsidian approved his far grander vision of individuals challenging the gods and the very order of the universe, accented by deep-dives into faith, love, and mortality. Neverwinter Nights 2: Mask of the Betrayer far outgrew its original, humble concept to win runner-up on GameBanshee's 2007 RPG of the Year feature. It remains one of the finest CRPG experiences of the 2000s.
Ziets's story is a standout case for giving game writers a seat at the development table from the get-go and a free hand to shape a game's journey. Even if the game isn't a story-centric one, game developers still shouldn't de-prioritize the writing. Just look at how titles that led with gameplay and visuals, like Destiny and Mass Effect: Andromeda. They sank into mediocrity on the weakness of their writing. Writers of old CRPGs didn't just lay mortar between the bricks, they helped plan the wall.
Mind the Barrier to Entry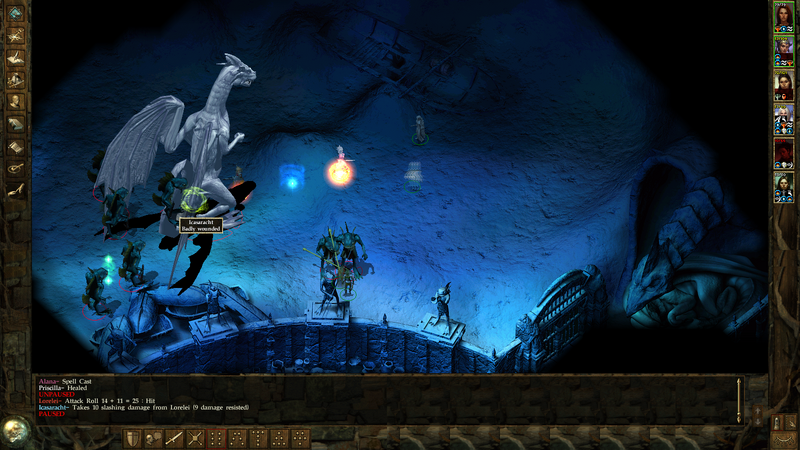 CRPGs used to be hardcore, designed for savvy players who knew their spellbooks and bestiaries — and relished a challenge (like in the Icewind Dale games). With their hack-and-slash focus, esoteric Dungeons & Dragons-derived rulesets, and high difficulty curve, Icewind Dale and its sequels were prime examples of older CRPGs' unforgiving nature. But while challenges can be fun, we can't all afford the time and energy they demand.
Obsidian understood this when they added a minimal-difficulty option to Pillars of Eternity. According to game director Josh Sawyer, this "dad mode," as it was nicknamed, was aimed at longtime fans who no longer had as much gaming time. But it's not just dads — or mums — who benefit from such accommodation.
Gamers have wildly different skill levels and reasons for picking up a game. Some don't mind, and even enjoy, studying arcane rulesets and retrying tough battles. Others just want — or need — a quicker, less stressful experience. Game devs shouldn't exclude this chunk of every player base.
It's about options. No one's saying devs should "dumb down" a game to make it easy for all. But that sweet spot between substance and accessibility can be pretty elusive. As Pillars demonstrated, the best way to hit that bullseye is for devs to make a game's barrier to entry more flexible.
Keep What Worked and Make it Better
In the real world, nasty behavior has repercussions. Not so in CRPGs, where for a long time, you could sass everyone you met and carry on like a boss — until Pillars of Eternity came along. As the game kept track of your conduct and had characters react to it accordingly, suddenly watching your mouth was the smart thing to do.
Things like this do a lot to enhance CRPG worlds — and they're not all modern inventions. 1988's Wasteland went down in gaming history for its multiple-solution approach to obstacles and a story big on choice and consequence. As the director of its 2014 sequel tells it, preserving these elements was a top priority in Wasteland 2's development. That, along with jazzing up of other elements such as combat, enabled inXile Entertainment to deliver a Game of the Year winner that is lauded as a leading success of the retro RPG renaissance.
This is how we make progress, by carrying forward what worked and building on it. Even retro-style games that sell on nostalgia need some innovation to make them relevant. And that doesn't just mean innovating on the visual front — that's a black hole where gamer appetites are concerned. Innovations must carry over to the things that shaped the old greats like gameplay, design, characterization, and more. Game devs need to study and surpass these elements to forge new greats.
It's only practical to appreciate the great games of past generations. They were great for many reasons. Each title presents a learning opportunity for devs who know what to look for. After all, old may be gold, but even gold needs polishing every once in a while!
The post Old Is Gold: What Game Developers Could Learn From Retro RPGs appeared first on FANDOM.
ENTERTAINMENT DEAL UPDATE: