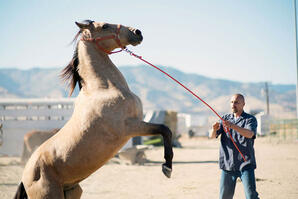 How do you communicate with a horse? In The Mustang, Roman Coleman (Matthias Schoenaerts) has no idea. He's a violent convict who has been given the opportunity to join a rehabilitation therapy program in which participants train wild horses.
In our exclusive clip, Roman seeks advice from Henry (Jason Mitchell) about his unnamed horse. Henry points out: 'Everyone needs a name,' leading Roman to a decision about what to call the wild mustang.
Watch the evocative clip below….
MOVIE APP UPDATE: