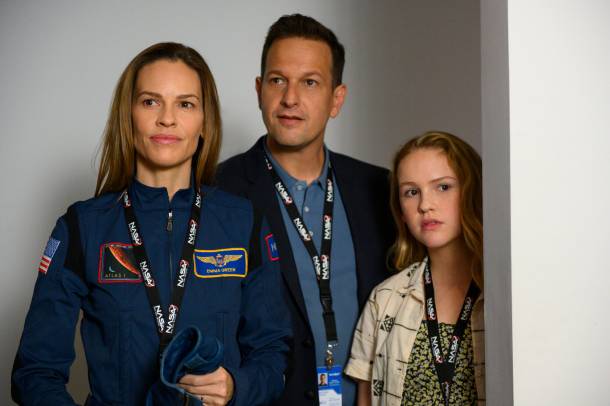 Hilary Swank stars in Away, which finds itself at the top of our list this week of the most-watched shows on Netflix.
The show is about the incredible achievements associated with space exploration — as well as the human cost associated with them.
The data for this list of the most-watched shows on Netflix comes as always from the team at Reelgood.
---
When looking over the list of the most-watched shows on Netflix this week, I was reminded of a passage in Meg Howrey's 2017 novel The Wanderers that was so evocative that I couldn't keep reading because I was thinking about it so much. There were multiple places where this occurred for me while reading the novel, actually, but for this specific instance, it was during a description of Apollo 11's Michael Collins, who flew the Columbia command module around the Moon. That was happening, of course, while his crewmates Neil Armstrong and Buzz Aldrin were busy walking on the surface of the Moon after having made the first crewed landing on the body.
"It wasn't Neil or Buzz that had interested her, or even the moon itself," Howrey writes in The Wanderers, which is about a group of astronauts chosen to train for the first-ever mission to Mars. "She had been attracted to the missions' most unsung hero: Michael Collins, alone in Columbia, drifting around the moon in exquisite solitary splendor while Buzz and Neil had gone about the terrestrial work of putting down a plaque, erecting a flag, and gathering rocks. Every two hours Michael Collins had gone out of radio contact for forty-eight minutes when the moon stood between himself and Earth, and during those minutes he was the most alone person in the history of people." One of the protagonists of the novel, American astronaut Helen Kane, liked to think about Collins and what he experienced, alone and floating through space. That was presented as emblematic of Kane's lifelong dream. Space — not a specific point or planet within it, just space.
Today's Top Deals
AirPods Pro and AirPods 2 might not even be this cheap on Prime Day, but these deals are ending soon
Trending Right Now:
Netflix just released one of 2020's most controversial movies – and it's already banned in one country
These are the Netflix shows everyone can't get enough of right now originally appeared on BGR.com on Sat, 12 Sep 2020 at 11:03:00 EDT. Please see our terms for use of feeds.

BGR
BEST DEAL UPDATE: